Primary Program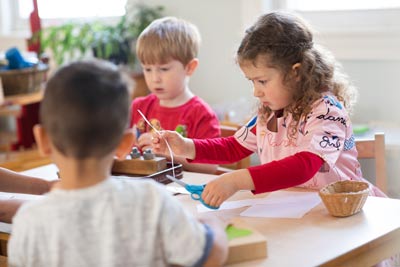 Primary – Ages 3 through 6
Our primary program provides an enriching and nurturing hands-on learning experience with specially formulated Montessori materials for math, language, sensorial exploration, practical life activities, art, science and geography. The necessity of making choices and using coordinated movements to accomplish tasks leads the child toward self-regulation and self-control.

Each day consists of group activities, individual work time and outdoor play. The largest time block is for individual work.

Primary classes offered:
Primary Morning class: 9:00 – 12:00
Primary Full Day class: 9:00 – 3:00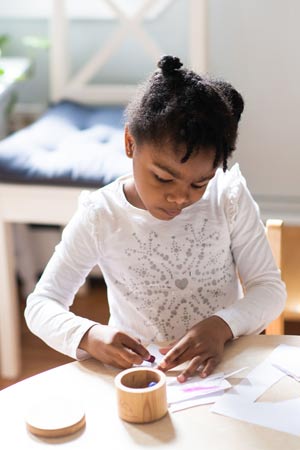 Why Five days?
At Woodside Montessori Academy we believe the benefits of a five-day program are immeasurable! Children love exploring, discovering, experiencing their environment. Doing this takes time. We live in a such a fast paced world-we want results and mastery immediately in the time frame we want. Children grow and develop at their own pace! They love to learn by exploring and deeply concentrating on their chosen activities. At Woodside we offer them the freedom to repeat those activities without interruption until they master them. The Montessori environment offers quality, purposeful work for children to engage in. Each day they are presented lessons that are age appropriate and will stir within them a love of learning.

Being in the classroom for five days, allows the process of learning and discovery to continue more consistently as well as giving them the opportunity to choose many interesting activities and work. A five day Montessori environment allows the natural pace of a child's learning to happen. Additionally, the more time children spend in the Montessori environment, the more time there is to build strong focus and attention skills as well as longer work cycles. This development is critical to children's success as they continue on with their schooling. Think about when you are engaged in a project you are enjoying and what it feels like to have it disrupted.

Additionally, there are so many activities in a Montessori classroom that no child can possibly complete them all in the school year. Imagine how much more learning can be opened up for a child who doesn't have her or his attendance limited to a few days a week!

The Montessori program is designed to meet each child's interest at his or her particular age. Missing out on many of these activities simply limits the customized possibilities that a child can enjoy.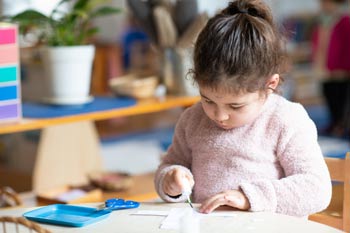 Primary 3-day (T/W/Th) Preschool: - 9:00-12:00 "Bridge to Montessori"
FULL for the 2022-2023 school year!

The "Bridge to Montessori" program is reserved for children who are 2 years 9 months of age. It is offered in order to introduce the extremely young child to the pleasures and routines of school. These children benefit from an early introduction to Montessori before entering the five day mixed-age classroom. The same materials and philosophy are presented, but the children attend three consecutive days a week—Tuesday, Wednesday and Thursday, in order to provide continuity in the learning process.

Woodside offers one class for the youngest students. This class provides learning opportunities in all areas of Montessori learning — Practical Life, Sensorial, Language, Mathematics, and Cultural. A typical day in the three day program consists of at least two circle times, one for a Montessori demonstration, Spanish or other lesson, the second for a song or movement activity; one extended work period, a free choice period where children choose their own work and teachers work with small groups and individuals; an outdoor time, on our playground; a book time, where children can look at books and/or hear one read to them; and a nutritious snack.

The goal of the three day program is to help younger students transition into the traditional Montessori five day program. Children who are part of the "Bridge to Montessori" program will receive preference in our Five Day program and will be able to move in January if they are ready! Staff will work with families to determine when this transition is right!