All Year Montessori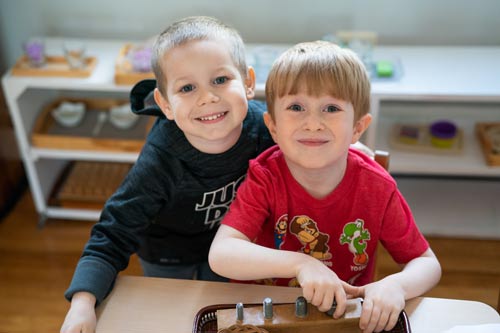 All Day - All Year
Woodside Montessori Academy has been a leader in Montessori Early Childhood Education since 1984. We are proud to offer an All Year Montessori (AYM) program. The AYM program is designed to serve parents who needed extended care and to offer children, who spend extended time at school, a comforting home-like setting. It's the best of both worlds: school and home melded together with a nurturing staff who support each child's full potential.

All Year Montessori (AYM) features all the benefits of a Montessori education. The mixed age group provides a family setting which encourages compassion and generosity. Within this safe, loving atmosphere, children's physical and mental development is nurtured with individual attention and encouragement for imaginative play and exploration in a prepared environment.

The extended hours in the AYM preschool class allows children (three to six-years-old) to truly set their own pace for learning and take full advantage of the academic materials offered in a typical Pre-K– Kindergarten classroom. They also develop unique one-on-one relationships with their teachers who offer encouragement, accountability, and mentorship in support of the school's ultimate mission: helping our students grow into exceptional adults.

We provide an enriching and nurturing hands-on learning experience with specially designed Montessori materials for math, language, sensorial exploration, practical life activities, art, music, science and geography. We provide opportunities for gardening, nature studies, cooking, weaving/sewing, and learning Spanish.

Each day consists of group activities, individual work time and outdoor play. The AYM program allows the child to have periods of focused concentration and relaxed reflection, thereby creating balance and flow in the child's day. Also, with the benefit of time and attendance through August, the AYM students plant a plentiful vegetable garden which is ultimately used to create garden-to-table snacks prepared by the children.

Benefits of All Year Montessori (AYM):
Researchers have found that shorter breaks cut down the learning loss during the summer. Positive attitudes, more relaxed school atmosphere, have been attributed to year-round education. Educational benefits include increased retention of information that has been taught due to a more balanced schedule. Finally, seasonal events are planned by the AYM students throughout the year in order to strengthen the classroom community and bring together hard-working parents who share the challenge of finding priceless time with family and friends.

Quick Facts:
Open: 245 days per year
Hours: 7:00-6:00
Number of students in the class: max. 20
Student/teacher ratio: 10:1
Play area: Outdoor area complete with large sandbox, play equipment, gardens, 'mud kitchen', music garden, treed area, and grassy area.

Note:
Breakfast will be provided or children arriving before 8:30 for families who make a request. Healthy snack and 100% juice will also be provided. Lunch will be provided by parent (Friday families may purchase pizza).