Woodside Montessori Academy Plans for 2020-2021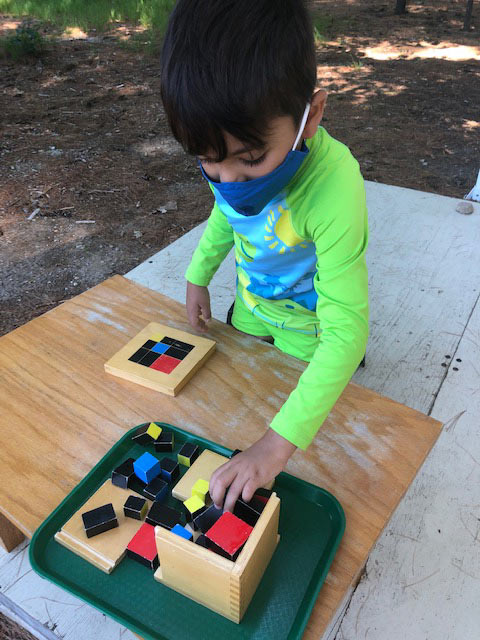 Woodside Montessori Academy has developed a comprehensive Covid-19 Reopening Plan required by the Department of Early Education and Care (EEC) and is based on the Commonwealth of Massachusetts Department of Public Health (DPH), the American Academy of Pediatrics (AAP) and the Centers for Disease Control and Prevention (CDC) recommendations. Additionally, we have been engaged in ongoing conversations with Heads and faculty from the Montessori Schools of Massachusetts (MSM) group and the New England Association of Schools and Colleges Global Forum to share best practices for creating plans given the situation in our area.

Creating the safest environment for our students will require changes to our ideal Montessori learning environments. However, we feel we have intentionally designed an approach with our mission and principles in mind that will support our community. Our goal is to have our students back on campus on the first day of school.
Frequently asked questions
What are Woodside's plans for the 2020-21 school year?
How is Woodside making decisions about reopening?
What if classes need to move online again at some point? Is Woodside prepared?
What measures will be taken to clean classroom and common areas.
How will the classrooms be set-up?
How will Woodside plan for social distancing?
Are children required to wear a mask?
Woodside will open for in-person instruction for the 2020-21 school year. We have developed a comprehensive Covid-19 Reopening Plan based on EEC and CDC regulations. Massachusetts has remained among the states with the lowest number of Covid-19 cases since the end of May, and Woodside has remained Covid-free.

Our dedicated and brave educators came together to plan, organize, and completely rethink procedures in order for our All Year Montessori (AYM) and summer programs to open. We have learned a lot in these past weeks about our protocols and procedures. The most important lesson and the one that surprised us the least: our Woodside children are resilient. They have adapted to physical distancing, mask-wearing, and extra hand washing with grace and ease. Those educators who are not on campus for the summer are working diligently to plan curriculum, engage in professional development, make materials, and ready themselves for any scenario that might arise.
The reopening plan for our school has been designed with an approach that will allow us to focus, prepare for interruptions, and make changes to reflect new guidance. We will maintain flexibility as we continue to monitor CDC, the Massachusetts Department of Health and the Department of Early Education and Care (EEC) guidelines and recommendations.

The following 6 guiding principles reflect the standards, procedures, and protocols Woodside is evaluating for the implementation of our reopening. We recognize that these are subject to change depending on current CDC, Massachusetts Department of Health, Millis Board of Health and the MA Department of Early Education and Care requirements and recommendations.
Maintaining a Healthy School Environment (frequent disinfecting protocols)
Monitoring Illness (self-screening and daily monitoring)
Maintaining Physical Distancing (whenever possible)
Promoting Daily Hygiene Routines (frequent handwashing, mask wearing, and extensive disinfecting)
Evaluating classroom material use
Increased use of outdoor classrooms (at all levels)
Supporting Well-Being (awareness and support of our community's emotional wellbeing)
Woodside had a successful experience with distance learning during the spring of 2020. On Monday, March 16, we transitioned to Woodside Without Walls virtual learning for instruction when our physical campus closed. All students had regularly scheduled community meetings, lessons, and opportunities for small group instruction appropriate for their developmental level. Teachers also prepared take home materials for weekly pick-up.

Since the close of the school year, all teachers have participated in professional development designed to help them facilitate presentations and provide new content and skills for their students with meaning, purpose, and creativity. Parent surveys provided meaningful feedback to guide our implementation of meaningful virtual leaning experiences with significant changes being made. Woodside is prepared to pivot to an alternative learning scenario quickly and efficiently.
Faculty and staff members will deep clean spaces at the end of the day as well as wipe down door handles and hard surfaces during the day. Frequently touched surfaces will be disinfected throughout the day. Classrooms with restrooms will be monitored by faculty and enhanced disinfecting measures will be used throughout the school day.

Woodside has stringent disinfecting procedures in place using safe, EPA approved botanical based products. We use an electrostatic sprayer nightly.
The following safety measures related to the classroom environment will be implemented:
Student workspaces have been arranged with the maximum social distancing measures possible. Each student will have an assigned spot that may change daily.
Student tables will be arranged to reduce face-to-face positioning as much as possible.
The water fountains will not be accessible in the elementary classroom. Students may bring a water bottle to school each day.
Examination of classroom materials and furniture have been minimized for more space.
Students will use their own personal school supplies. There will be no shared supplies.
Movement by students within the classroom will be monitored to support social distancing measures. We will use visual cues to help guide children understand their space.
Classrooms with restrooms will be monitored by faculty and enhanced disinfecting measures will be used throughout the school day.
Student and staff groupings will remain static – having the same group of children stay with the same classroom. Occasionally educators will move between grouping as needed.
Students in Elementary and Middle School will use the same electronic device as necessary.
Understanding that Montessori environments encourage collaborative work, Woodside will adhere to guidelines in order to maintain a safe learning environment. We have created different scenarios to allow children to still collaborate safely. According to the CDC and the MA Department of Health, keeping space between yourself and others is one of the best tools we have to avoid being exposed to the virus. However, we understand for small children the rule of 6 feet distancing might be difficult to follow, therefore we will continually encourage and monitor good hygiene practices in the classrooms. When possible, classroom workspaces will be placed 6 feet apart. Outdoor classroom spaces will be utilized to simplify distancing. We will also use plexiglass partitions at the Elementary level as needed.
All faculty and staff will be required to wear face masks. All children will be highly encouraged to wear face masks, and they will be required when children are unable to be six feet apart. All students must bring two solid colored cloth masks to school every day, labeled with their name. In the event an additional face covering is needed, the school will have extra supplies of masks available. Face shields will be used by the educator for direct lessons, especially for language-based lessons.
We are a Community
One of the central tenants of Woodside Montessori Academy's mission is our community. Mitigating the risk of the spread of the virus and maintaining a safe environment inside the school relies on all of us to do our part outside of school. Working together to keep our community healthy has never been more critical as we navigate a global pandemic.
We implore our community to follow the health and safety guidelines as laid out by health professionals worldwide:
Restrict your family's exposure to large crowds.
Practice physical distancing and wear a mask in public.
Teach your children the importance of thorough hand washing.
Do not bring students to campus if they have been exposed to anyone who has COVID-19 or is exhibiting symptoms.
Take the school's self-screening protocol seriously.
Be patient at arrival and dismissal when parents are getting young children in and out of their vehicles.
Follow Massachusetts requirements and CDC recommendations regarding travel and self-quarantine when returning from travel.
Report any information to the school that will assist us in maintaining a safe environment.
Be flexible—our plans may change as the situation with the virus changes.
Updates to this plan on our communication platform, Bloomz.